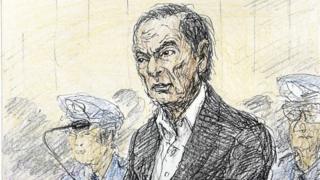 Former Nissan chairman Carlos Ghosn has maintained his innocence in his first court appearance since his shock arrest in Japan last year.
He has been in custody since November and faces allegations of financial misconduct.
In a prepared statement, Mr Ghosn said he had been "wrongly accused and unfairly detained".
His lawyers requested the court hearing to address the reasons for his lengthy detention.
Japanese prosecutors have charged Mr Ghosn with financial misconduct and accuse him of under-reporting his pay package.
Mr Ghosn, a towering figure of the auto industry, appeared at the Tokyo District court wearing a dark suit and looking visibly thinner.
"I have been wrongly accused and unfairly detained based on meritless and unsubstantiated accusations," his prepared statement read.
The 64-year-old said he never received any compensation from Nissan that was not disclosed.
Mr Ghosn said he had "never been accused of any wrongdoing," and had dedicated two decades to "reviving Nissan".
Speaking at a news conference in Tokyo later in the day, Mr Ghosn's lawyer said there was no reason to detain him and called on prosecutors to carry out a more cautious and thorough investigation, Reuters reported.
His initial arrest nearly two months ago shocked the industry and his lengthy detention has drawn some criticism.
But a judge in the Tokyo District Court on Tuesday said Mr Ghosn's detention was justified to prevent possible evidence-tampering and the risk that he might flee, according to reports.
What are the accusations?
The architect of the Renault-Nissan alliance has been accused of "significant acts of misconduct", including under-reporting his pay package and personal use of company assets.
He was first arrested on 19 November for understating his pay and rearrested twice in December.
His most recent arrest involved fresh allegations of breach of trust.
According to media reports, prosecutors claim Mr Ghosn shifted private investment losses of more than $16m onto Nissan in the wake of the 2008 financial crisis.
His current detention period runs until 11 January. To keep him any longer, they would have to rearrest him on a separate allegation.
If found guilty of the financial misconduct charges, Mr Ghosn faces up to 10 years in prison as well as a fine of up to 700m yen ($6.4m; £5m), according to Japanese regulators.
Who is Carlos Ghosn?
His hero status was so big that his life was serialised in one of Japan's famous cartoon comic books
The Brazilian-born boss of Lebanese descent and a French citizen says his background left him with a feeling of being different, which helped him adapt to new cultures
In France he was known as Le Cost Killer, a comment on the deep cuts he made to revive Renault
He was once tipped as a potential president of Lebanon, a move he eventually dismissed because he already had "too many jobs"
In a 2011 poll of people the Japanese would like to run their country, Mr Ghosn came seventh, in front of Barack Obama (ninth)